As Julia Nahmod '24 turns over a card from the middle pile, Ezra Rosenthal '23 stands up, anxiously looking to see if the card has a yellow diamond on it, the same symbol as his card. Yoni Becker '25 turns over the last card of the pile. Rosenthal and Becker scream at the same time. It's a tie!
A group of five students are seated around a table in the Guérin, looking at the maps in front of them. The five students placed in the top three of their previous match. Next to them, a game of Anomia for beginners is played between juniors and administrators.
Both students have 11 cards. Seth Cohen '23 turns over one of his cards to break the tie. The card shows Beach Accessory in bold type. Rosenthal shouts: "Towel! A fraction of a second after Becker exclaims, "Umbrella!" making Yoni Becker the champion of Anomia.
Juniors Eitan Feldman '23 and Lior Berrin '23 started Board Game Club in ninth grade because they wanted to go out and play board games at school. The club meets most Fridays at Le Guérin. Feldman and Berrin bring their favorite games from home, like Anomia, Sushi Go! and Codenames. Students who attend can play any of the games, and for as long as they want. Board Game Club is also a great way to learn new games. Once you've learned a game, it's an easy way to meet new people in the future:
"Board games are a skill that you can take with you for the rest of your life," Berrin said. However, in ninth grade, the club did not reach more than their group of friends. Feldman finds it disappointing: "We haven't really diversified as much as we would have liked. "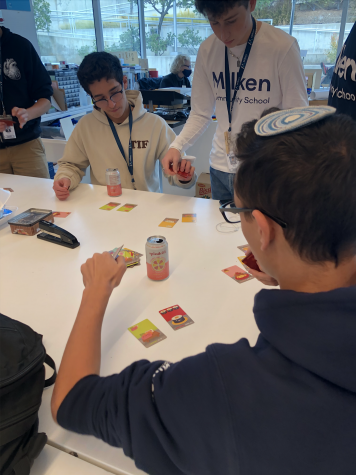 They brought the club back this year as a way to connect with more people, "especially after COVID [when] people feel a bit isolated and are coming back to school for the first time in a long time, "Berrin explained. Board Game Club is a great way to connect with the Milken community.
One goal that Feldman and Berrin have for this year is to facilitate new friendships across their club. "We want everyone to be more comfortable with each other, people who don't necessarily hang out," Feldman said.
The first session took place on Friday October 22 during lunch. Berrin and Feldman are proud that the club was able to reach a larger group of students than it did in ninth grade. According to junior Zev Gaslin '23: "It was a great way to connect with my community and have a good time doing it. "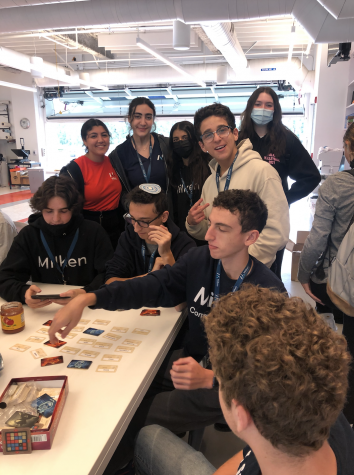 It is important to have the Board Game Club in Milken because it serves as a moment of relaxation. This year, Milken even installed ping-pong tables, chess, foosball, and other games to play during breaks. Feldman acknowledges that students have "less time during the day and don't have as many breaks" in high school, making it more difficult to control stress during the school day.
For junior Kate Behrman '23, "It's a great outlet to relax and hang out, but also to keep your brain active throughout the day." While relaxing, the club also offers a balance of camaraderie and competition.
The board game club is zero-commitment, which means any student can go there to play board games. "You can come when you want and you don't have to come all the time. You don't even have to play board games, you can just hang out, "Gaslin '23 said. Club leaders made it a relaxing environment for people to talk and have fun while preparing food and drinks.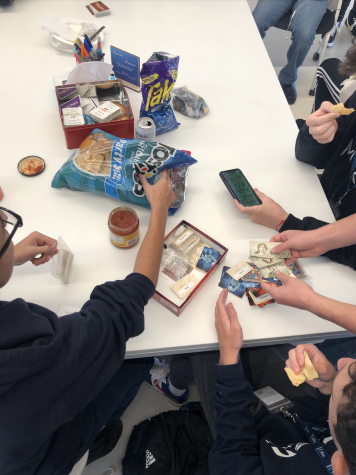 "People should come, try," Berrin said, "I think you'll have a good time." Email Lior Berrin or Eitan Feldman to join the board game club and receive information on upcoming sessions.